5 strategies that have proven to generate high profitability and will help you create your investment portfolio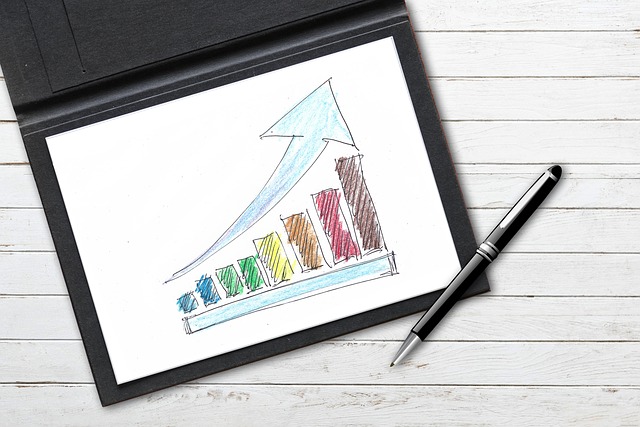 If you are looking for profitable strategies to create your investment portfolio, in this article we will show you five strategies with excellent results so you can configure your own system. You will discover for yourself five strategies that have proven to generate high profits, not only during the backtesting period but since they were sent to users once shared!
With the Betamin Builder tool, in addition to creating your own strategies, you can also share them with other users in our community. These five strategies can be found in "Public Strategies" and follow them yourself by receiving the picks easily in your inbox. In addition, the picks are sent about 48 hours before the start of the game, so you have enough time to organize and place your bets.
The five strategies that we recommend have been tested with more than 10,000 picks, and since they were published they have sent about 1100 picks to users with a Yield close to 12%.

As you can see, high profits are obtained and with a very low Maximum Drawdown for the number of picks produced. Through the monthly graph, it is observed that there are hardly any negative months. In fact, in the current year, 2019, profits have been made EVERY MONTH, although that is not usual when following a system. The main objective as a bettor is to obtain long-term Profits, and above all to know that bad times will always exist, and it is not always possible to win every month.
In this table of results, you can see that every year profits have been made.
| | | | | |
| --- | --- | --- | --- | --- |
| wdt_ID | Year | Total Bets | Net Profit | Yield |
| | | ∑ = 10263 | ∑ = 1,189.47 | |
Below, we show you the detail of each of the five strategies that make up this portfolio.
Colossus 06 Scoring Away Overs – Reliable and consolidated strategy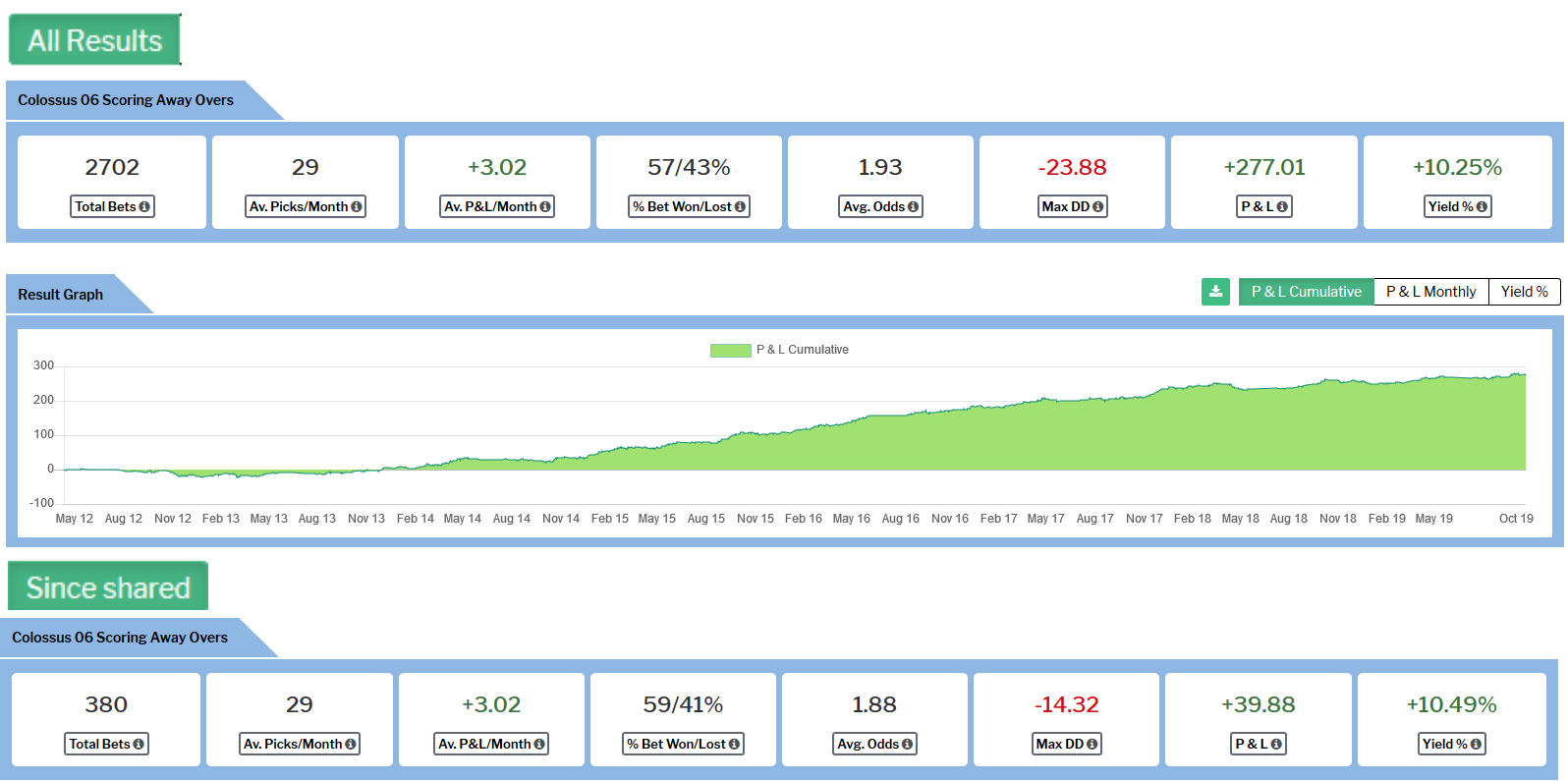 Created by Tom Whitaker and published in his book "Winning Sports Betting Strategies with Betaminic". One of the strategies that have obtained more profits since it has been shared, and that has many followers. Strategy for the market of Over 2.5 goals with a high ratio of winning bets, which increases the profit progressively over time. The average odds below 2.00 and a low Max DD make it a very suitable strategy for investors seeking high returns without taking high risks.
DOUBE CHANCE – Strategy with impressive Yield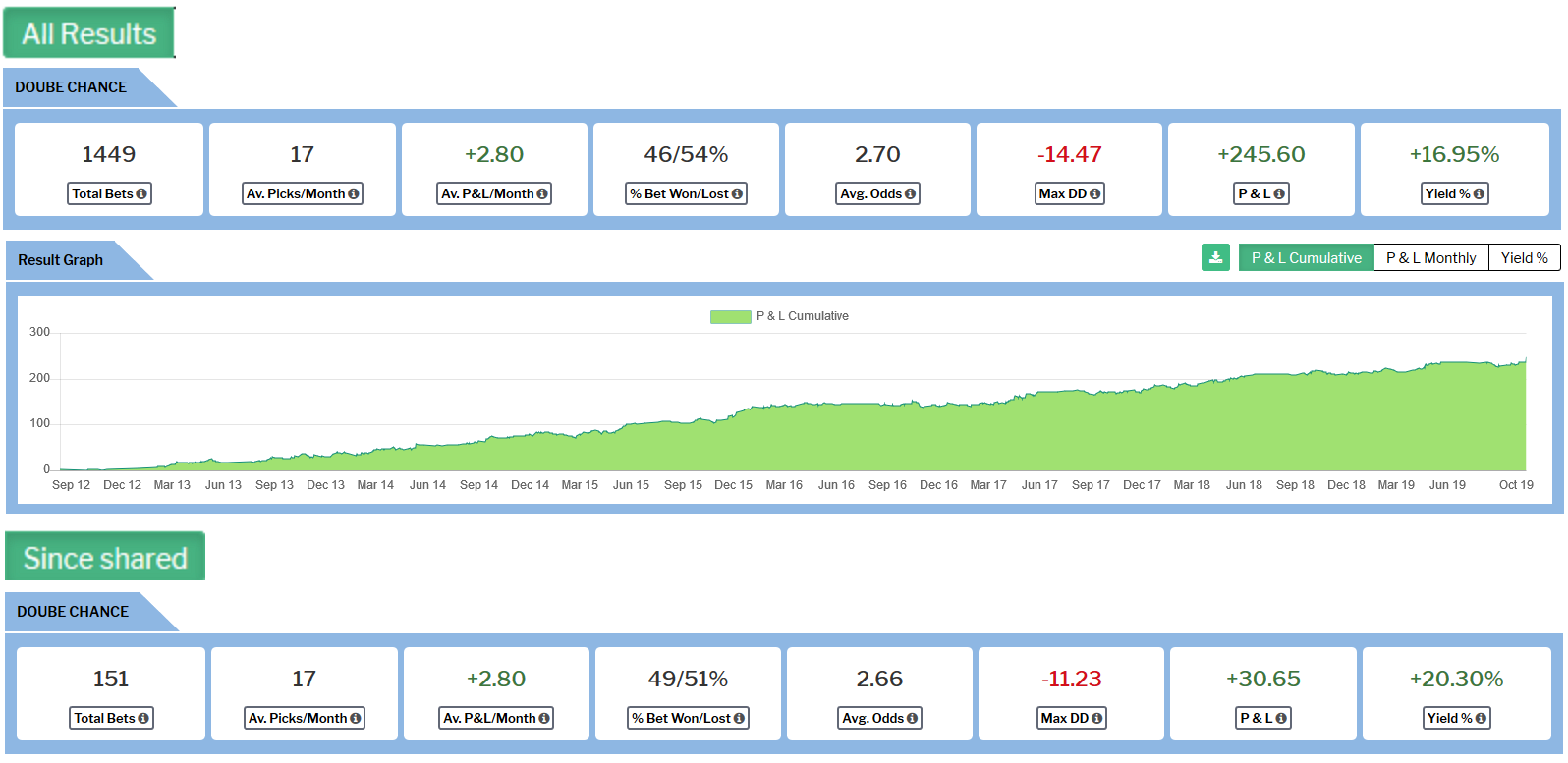 Shared by our user nirnouta50. It is a strategy based on the double chance market (1X). Despite betting on the local victory or the draw, the average odds are relatively high, the Max DD is very low and the profitability generated has been spectacularly high. It is a strategy that we recommend to include in our investment portfolio because of the excellent return you are getting.
HOMES YENİ SHARE – Strategy with high odds looking for Max Profit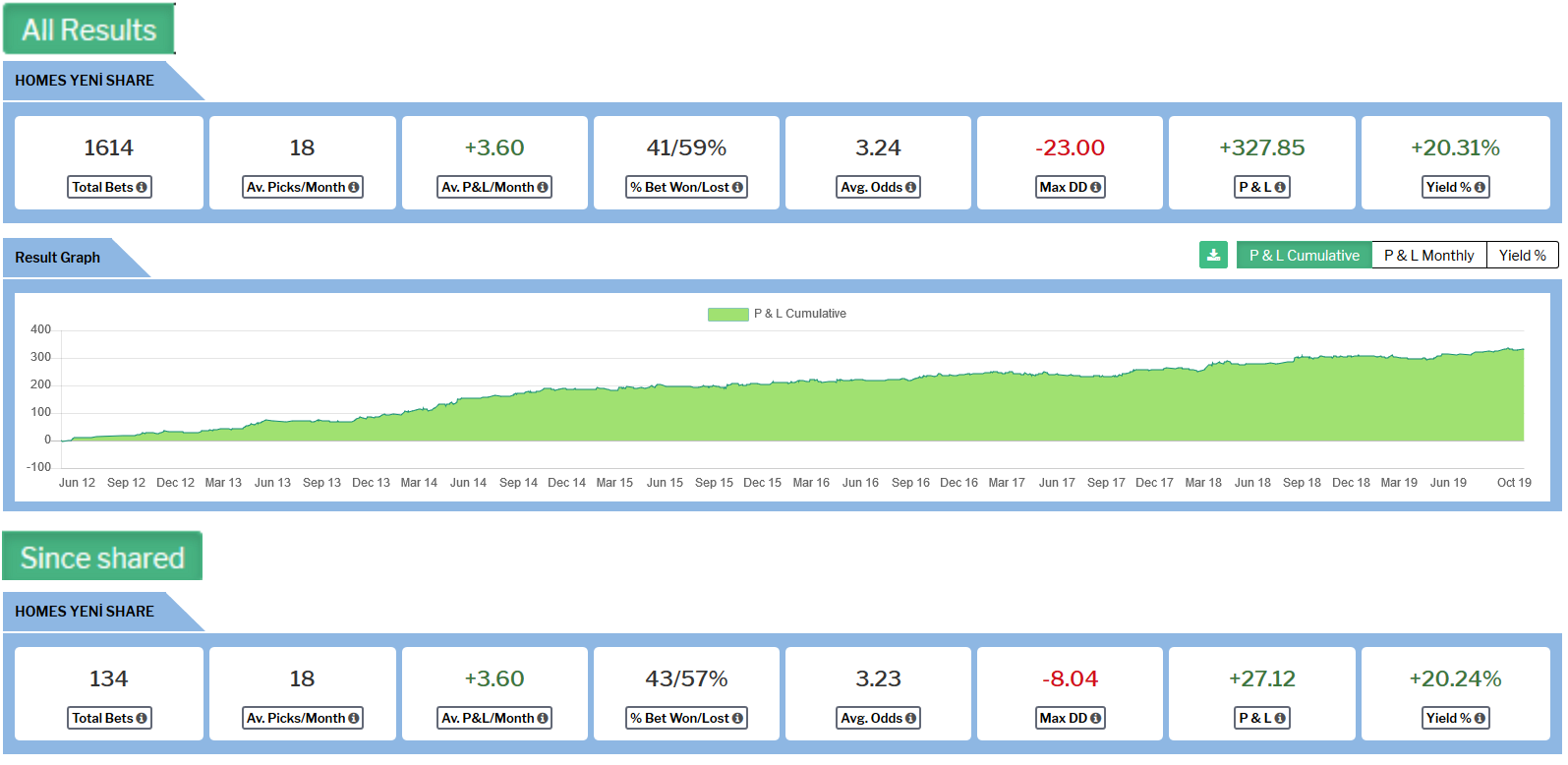 Shared by our user GrandEkinoks. It is a strategy that has drawn our attention to the results it is achieving. With average odds of 3.24, you should expect a lot of losing streaks, but the Max Drawdown is very low, more common in strategies with lower average odds. But what has surprised us the most is a Yield greater than 20%, both in historical results and in those generated since it has been shared with other users. It is a system that we recommend to include it in a portfolio to diversify the risk against possible bad streaks.
Pro-Home – Reduced risk strategy, but with a large Yield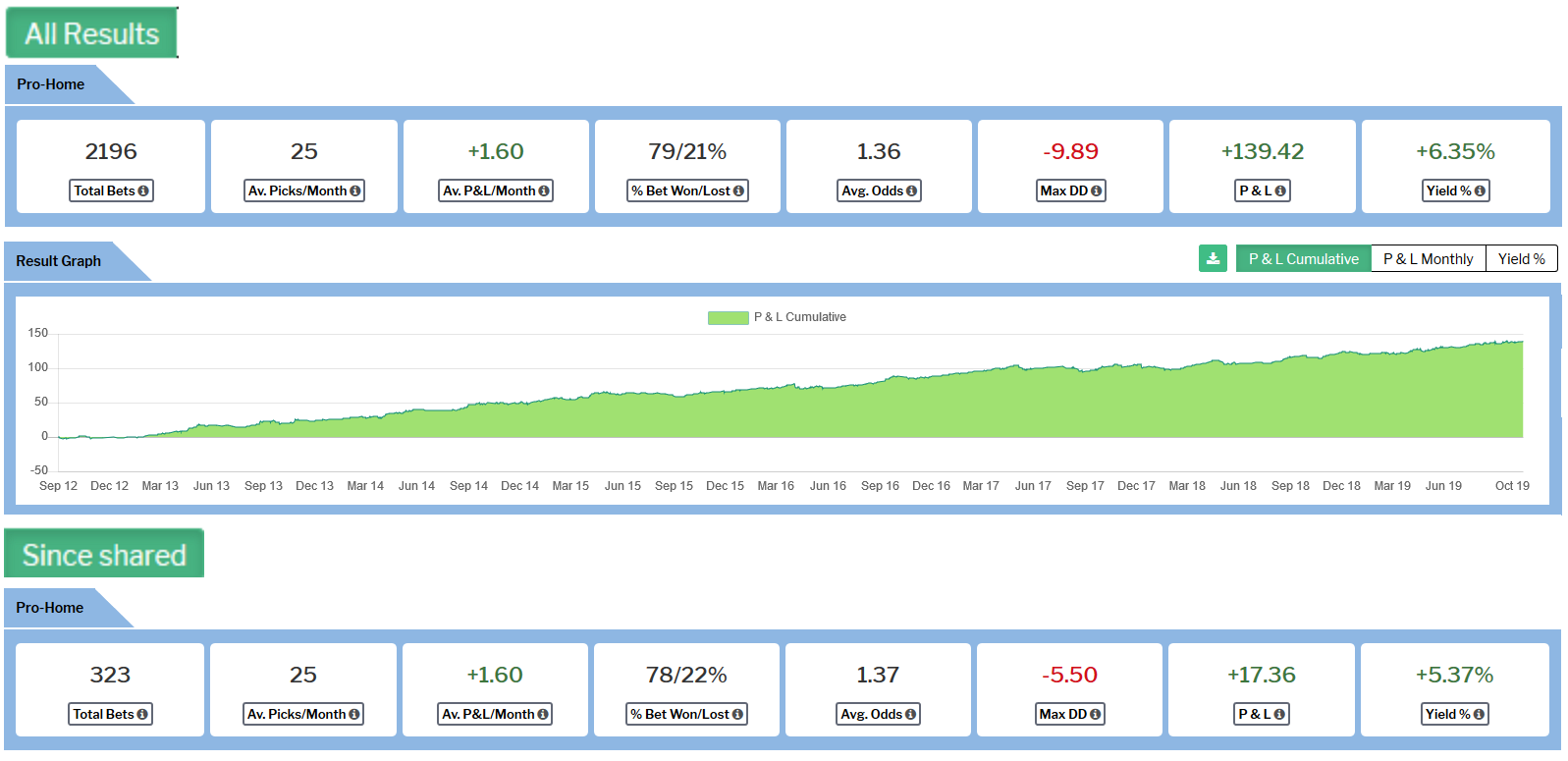 Shared by our user luisbang. A system that seeks the victory of the very favorite local team. Although the odds are very low, the Yield obtained is high for these types of strategies that look for the minimum possible risk. It is a very appropriate type of strategy to combine it with other systems, since it helps to soften the possible bad streaks, but also helps to increase the total profit. With more than 300 picks behind it since it has been shared, it continues to demonstrate that it is an excellent strategy to incorporate it into a portfolio or for those risk-taking bettors.
The rocket strategy – Excellent strategy for the victory of the Local Team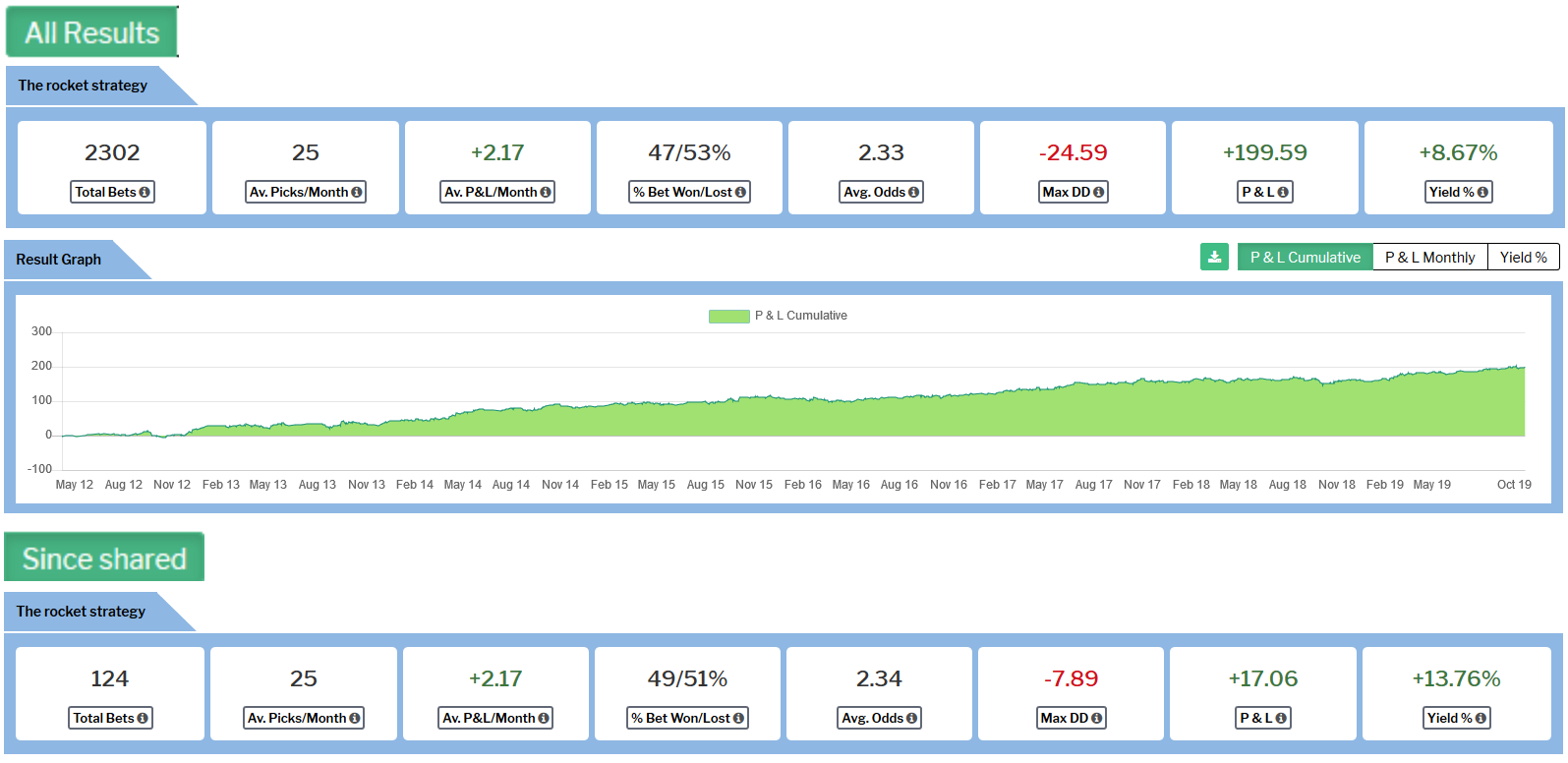 Shared by our user Andrewin. Finally, we have a strategy that we also incorporate into our portfolio for the results you are getting. We like the average odds of 2.33 and the high Yield obtained, both in the historical and since shared. It is a strategy with slow profit growth, but in a secure way and with hardly any big loss streaks. It is also based on the victory of the home team and again with a Drawdown much lower than expected.
Do not wait any longer! Build your own profitable investment portfolio by following these five strategies
How to receive the picks of the strategies

Activate the option to receive the Picks, by clicking on the "Follow" button, which you will find to the right of the strategies you want to receive picks.

You don't have to do anything else. You will start receiving the picks in your email account as soon as the games fulfill the conditions of the strategy (check your SPAM folder).
In addition to receiving the picks by email, you can view the open picks in  "My Picks" section of the main menu.

Each time you receive picks from the strategies, they will be deducted from the total picks you have in your account. In the upper-right part of the main menu you will find a Counter where you can see the picks you have left in your account.

If you have any questions in the process, you can contact us through the contact form or by email to [email protected] and we will respond as soon as possible.
Sign Up for free to access the Betamin Builder here.
See the best betting systems ranked by profit, ROI and risk here.
Check the Betaminic Public Strategies here.
Access Betlamp, the amazing free statistics tool here.
Read more about opening and closing odds