Betaminic Book "Winning Sports Betting Strategies"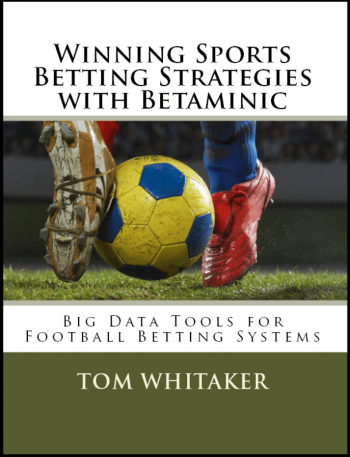 If you are not using Betamin Builder tool, this book will introduce you to a new world of winning football betting strategies.
If you are already using Betamin Builder, this guidebook will help you get the most out of it and put you on the path to even greater profits.

By Tom Whitaker
We are very proud to present you the book that Tom Whitaker just published to get the most out of our tool, Betamin Builder. This book is a step-by-step guide to using the Betamin Builder Data Analysis Tool for creating soccer betting systems to beat the bookies including 21 winning strategies in the Colossus21 System.
Have you ever wondered how some professional gamblers make their strategies?
Are you tired of making your own excel databases in the search for a winning system?
This book includes:
Betaminic User Guide
9 public strategies combined in the Betaminic Super9 system (averaged 349 points profit per year since 2012)
21 strategies combined in the Colossus21 system (averaged 1,049 points profit per year in the past 6 years)
Betting bank, stake size and staking plan analysis
Example start-up plans
Troubleshooting guide to help you stay on target
All 30 strategies are analysed in depth with factsheets that show the premise of each strategy, profit, yield, losing streaks, bet number, average odds, strike rate and maximum drawdown. Each four-page factsheet is an easy at-a-glance way to see a breakdown of profit by year and month. This includes information not shown on the Betaminic website: the percentage of winning months, longest winning and losing runs in months, average monthly and yearly profit, profit range per year and per month, average number of bets per year and per month.